Door design
Doors between rooms not only link spaces, they also make an active contribution to saving on energy and heating bills. Rule of thumb: The higher the quality of the integrated middle layer structure, the greater the thermal insulation.
We are happy to adapt the door you choose to your personal living situation. We produce the model in the required width and height. In addition, we offer you alternative versions for old and new buildings.
Honeycomb core
makes the door leaf especially light
is very easy to handle
makes a high surface load possible
only provides minimum sound protection
is only temperature-resistant to a limited extent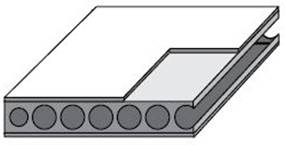 Hollow chipboard core
Very light door leaf
Simple handling
High surface load possible
Low protection against sound and differences in temperature
Solid chipboard core
Heavy door leaf
Very high stability
Good protection against sound and differences in temperature
High surface load possible
Door edge options in numerous variants
Whether the edges are rectangular or round, with or without rebate: We have the right door edge version for every application. Compare the different variants to find the model that best matches your wishes.